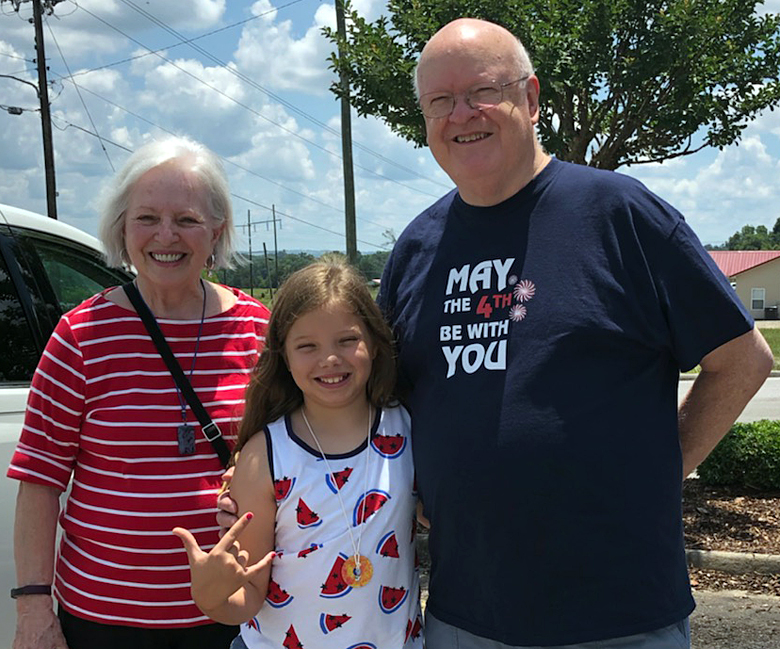 Saying Goodbye
So how did this past week go? Let's see. Nancy got some shots on Monday and met a couple of her friends on Thursday. I played bridge a couple of times...not well. I washed some towels and sheets. Nancy made a pot roast on Friday. We didn't even eat out this week. That's unusual. We watched a couple of movies on TV. I trimmed a bush or two. Not much going on. So how about a picture from last week?
After our granddaughter Margaret spent several days with us, we reluctantly gave her back on July 4th. We met Jenny in Blountsville, and said goodbye. Jenny took this picture. If anyone knows what Margaret's hand sign means, let me know.
Yes, July 4th is one of the 2 days in the year that I think I can wear that shirt.
I almost forgot. Back on March 23rd I posted comments about SETI@Home and the 46,000 data packages I had completed in just 4 months. As of this morning my little computer has calculated the Fourier transforms on 101,631 data packages. I crossed the 100k mark in the middle of this past week. Still no extraterrestrial intelligence discovered however.